Campbell River artist to be showcased in Timberwest's First Nation Cultural Art Showcase Program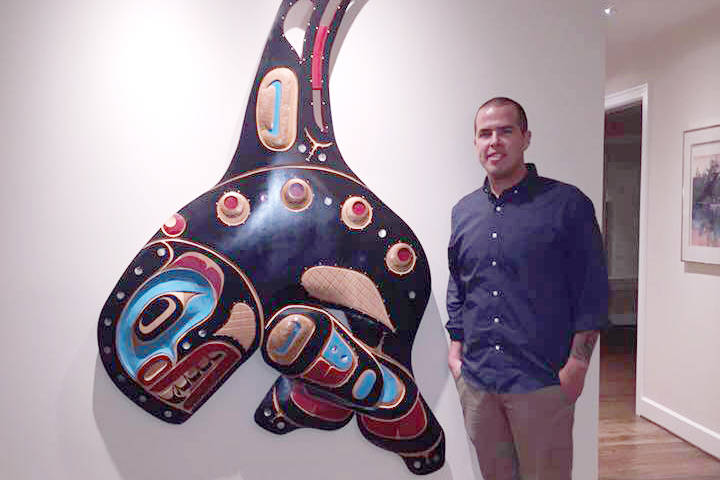 Curtis Wilson carved this killer whale panel using red cedar.
As seen in the Campbell River Mirror, by Jocelyn Doll, Sun Jul 23rd, 2017 8:40am
People familiar with the Campbell River arts scene know the name Curtis Wilson.
For those who don't, he is the local artist who designed the flag that was raised in Spirit Square on National Aboriginal Day.
"I wanted this flag to represent who I am," he said. "And it is more being inclusive trying to tap into looking at the positive of things and not the negative, sort of a glass half full. I know all the hardships that First Nations people have faced…and I wanted to recognize those but also know that I am proud to be Canadian and I am proud to be First Nations at the same time and I wanted something to represent both."
But he doesn't just design flags. At the moment, Wilson, acting chief of the Wei Wai Kum, is working on pieces for an exhibition coming up at VIU in September put on by Timberwest.
"Timberwest has developed some really long term relationships with First Nation groups across the Island," said Monica Bailey, communications director at Timberwest. "And one of the things we have been in constant work with is providing any of the artists with cedar logs. We just found that there was a better way for us to continue to showcase some of these artists. So we are working with three artists to really get them to tell their story culturally, through their work."
Wilson is a part of the Henderson family. At around age 19 he started diving into the artistic culture that his family nurtures.
"I really have an encyclopedia…of people that I can draw on for pretty much anything that I want," he said.
Wilson started with a carving of a raven, which he gave to his grandfather. From there he did simple panels. That progressed to masks and bigger pieces. Since then he has branched out to many other mediums including acrylic paintings, drums and digital design.
"I like to push the envelope and do something new, at least try something new all the time, but also try to stay traditional in the teachings that I have been taught through my cousins and uncles that derive from my grandfather," he said.
This will be Wilson's first official art show. Most of the work he does at the moment is commissions and he is booked until mid October.
"Art is a passion for me…I never wanted it to be something I had to do in order to put food on my table, I wanted to keep it as a passion of mine so I still enjoy doing it," he said.
Wilson also brings his families teachings to classrooms in the area. He has worked with students at École Puntledge Park Elementary in Courtenay decorating plywood salmon cutouts, done a mural with students at École Phoenix Middle School and is involved with art and cultural teachings at Ripple Rock Elementary, where his children go to school.
"The work that I do day-to-day gets pretty stressful and (art) allows me to free my mind," he said.
Timberwest's First Nations Cultural Art Showcase Program recognizes three First Nations artists representing three different language groups on the Island.
The other artists are Richard Thomas of the Coast Salish Stayout Tribe and Vince Smith of the Ehattesaht Tribe in the Nuu-chah-nulth territory.
The art showcase will take place at the Nanaimo Art Gallery in Sept. 2017.